Geostick is specialist in labels for the transport of dangerous goods and/or substances by road, rail, water and air, according to ADR and RID regulations. These hazard labels are used to mark and identify dangerous substances on cargo or load carriers. 
We have hazard labels available on rolls for identification of pallets, boxes and products. For marking the outside of trucks or containers, loose sheets of vinyl labels are suitable. Due to the permanent bonding of the self-adhesive labels, they are resistant for all weather conditions. The labels are BS5609 certified. 
Use our webshop to easily order hazard labels in classes 1 to 9, GHS symbols, kemler signs, handling labels or limited quantities of labels (LQ hazard labels).  
Transport of dangerous goods
Transport is by road, rail, water or air and for each there is a European law – ADR, IMDG and IATA. These laws indicate what the transport must comply with, such as packaging, documentation and the package and container marking. These markings apply in all European member states.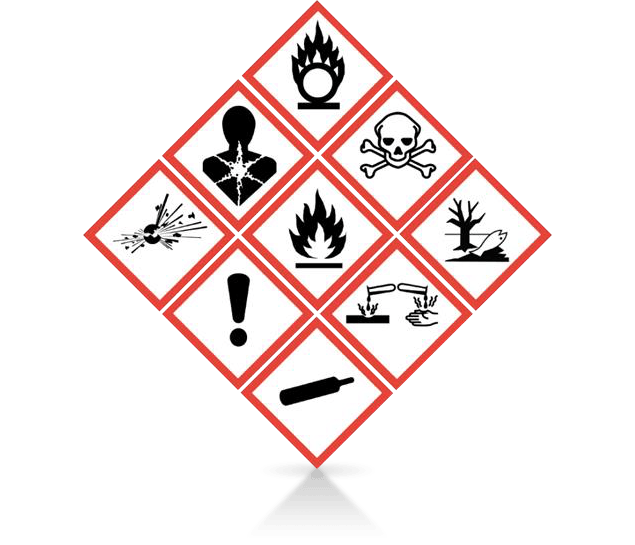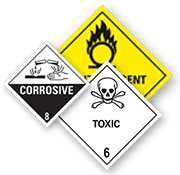 BS5609 certified labels
BS5609 certified labels received this certification after being exposed to seawater for three months in the most real seaworthy environment possible. The certification contains (but not limited to) criteria about the adhesive strength, the durability of the printing and the resistance to friction. Unlike other labels, BS5609 certified hazard labels remain legible and tacked to the surface when exposed to seawater or sunlight.  
RATAGS labels
Another solution for the chemical industry: RATAGS labels 
RATAGS labels are the solution for labeling drums, containers and IBCs. These plastic labels can be printed as if they were paper. They do not curl, do not shrink, do not stain, have an enormous adhesive strength and best of all: they do not leave any glue residue in laser printers. Lastly, the labels meet GHS requirements and are BS5609 certified. Want to know more about RATAGS? Please contact us 
Contact