Our Printing Facilities

⬤
Printing Presses and Production Facilities
At Geostick, we strive to deliver the highest quality printing to our customers, and it all starts with our state-of-the-art printing presses and advanced production facilities. We have three production locations: one in Heumen where conventional printing takes place, and two in Uithoorn. One of them is the so-called Digital Printing Center, where exclusively digital printing occurs using both Indigo and Inkjet technologies. The other is a fully conventional printing facility. We distinguish ourselves as a market leader in the label industry. How do we achieve this? You can read more below, where we delve into our printing techniques and our commitment to sustainability in production.
The unique selling points (USPs) of our printing facilities are as follows:
Color Precision: We specialize in color precision, and this is why major names in the paint industry are satisfied customers of ours. Utilizing the latest technologies and advanced software for our printing presses, we can produce every specific defined color with minimal deviation. We achieve this with a Delta E-value (dE) of less than 2. This means our customers can trust that their print exactly matches their color specifications.
Cutting-Edge Technologies: We continually invest in the latest printing technologies, such as Flexo, Indigo, and Inkjet machines, enabling us to innovate and provide our customers with the best possible print quality. This allows us to deliver creative and tailored solutions that meet our customers' expectations, ensuring they fulfill their promises to their own customers.
Lean Six Sigma: Within our production departments, we strictly adhere to Lean Six Sigma principles to ensure efficiency and quality. This approach leads to shorter lead times, reduced waste, and consistent quality, ultimately providing better value to our customers.
Contact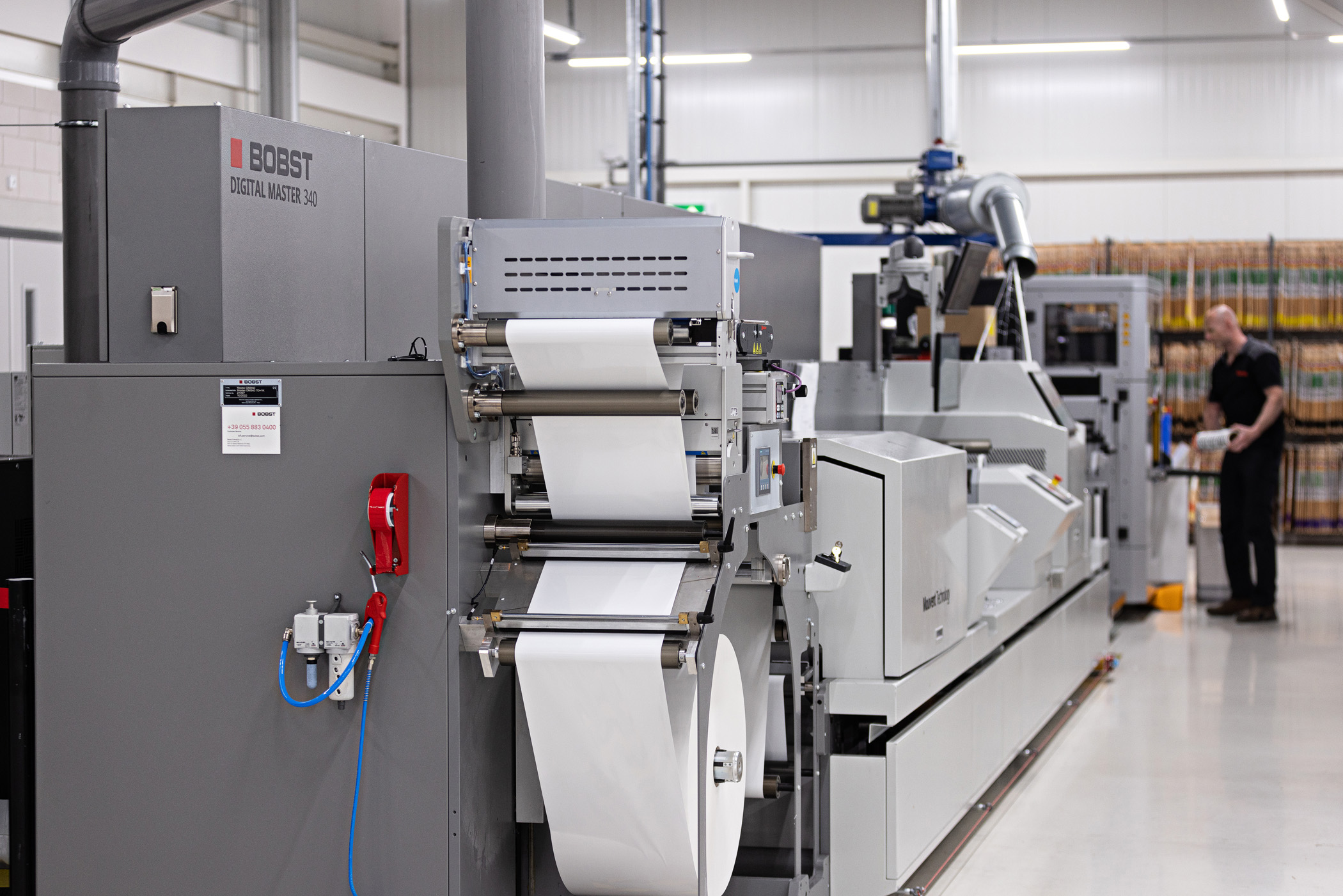 Here are some of the different label solutions we offer:
Multilayer
We produce complex multilayer labels such as twin, triple, and booklet labels, seamlessly integrating various layers. This allows for more space for text and design compared to a single-sided label.
Silver ink
Our printing techniques include the use of silver ink to add special effects and accents to the print, enhancing the visual aspect.
Mosaic and Collage
For special and unique designs, we utilize HP's SmartStream, allowing us to create endless unique designs from a pattern. This opens up creative possibilities for marketing and promotional purposes.
Embossing
With embossing, we can add textures and relief to the print, making it not only visually appealing but also tactically interesting.
Spot Varnish or adhesive free zone
Our expertise includes printing spot varnish or adhesive-free zones to add functional elements to the print.
Tagtile and Hazard triangle
We specialize in printing tactile hazard triangles to enhance the safety of product packaging. Placing this triangle on an existing label is mandatory for certain hazardous products, allowing blind individuals to recognize it as a dangerous product.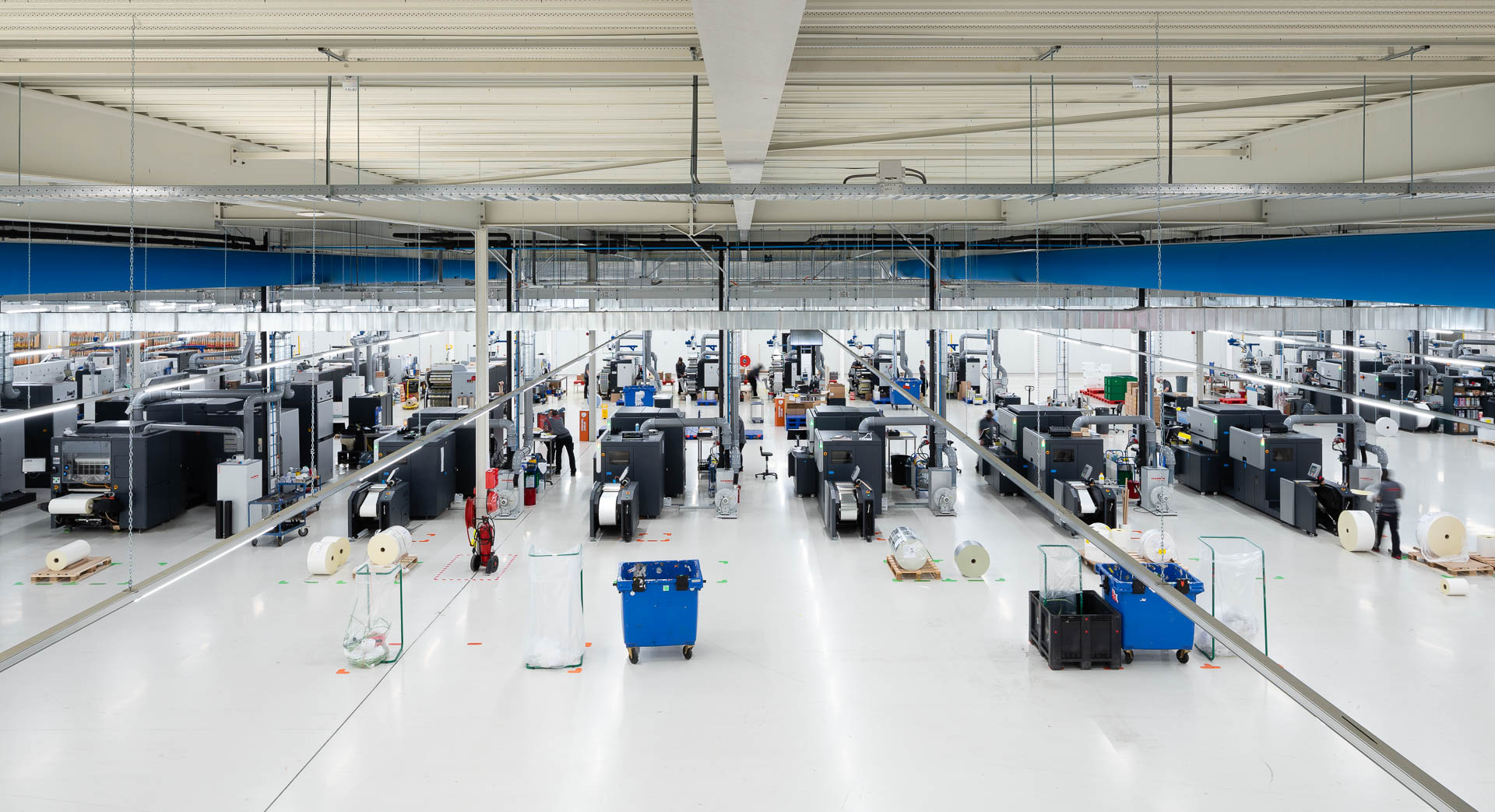 Sustainability in production
At Geostick, we take our responsibility for our environmental impact seriously. Our production departments are equipped with advanced extraction systems to minimize emissions and improve air quality. Our organization is certified with ISO-9001 and 14001, FSSC 22000, and a self-declaration for ISO-26000 transparency level 3. The Digital Printing Center is equipped with an impressive 3,214 solar panels, generating 932,000 kWh of green electricity annually. This facility was built in 2020 to the highest sustainability standards and was awarded a BREAAM Outstanding certificate. We collaborate with other companies on sustainable waste management solutions. We offer our customers a recycling program for various materials, and the residual materials from production are used as fuel and raw material for cement production.
Visit to the Printing Facility
We invite you to personally visit our printing facilities. Experience the impressive printing presses and our Digital Printing Center. Our team is ready to guide you and answer all your questions. Discover for yourself why we are the preferred supplier for many leading companies. Contact us today to schedule a visit!
Contact