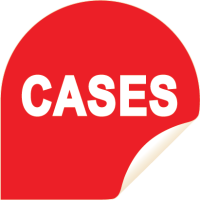 Synerlogic chooses for RATAGS
High restrictions for labels
Flexible identification is essential for companies in the chemical or food industry. As a rule, it turns out to be difficult for many of these companies to give a good interpretation to this. For example, they struggle with adhesion problems, labels that do not meet set requirements or are simply not resistant to the chemicals they may come into contact with. Geostick offers RATAGS labels especially for (a.o.) these industries. 
Heat-resistant
Michel Jongerius, Strategic Buyer at Synerlogic, ran into labeling problems in his work. The large IBCs, drums and VARIBOXES require labeling that, in addition to being heat-resistant, can also resist, for example, chemical spilling. 
In addition, the labels must comply with the strict BS5609 and GHS laws and regulations. And be user-friendly. So the key question is, where can you find a label that is so versatile that it can meet all these conditions? The solution offered itself in the form of RATAGS. 
RATAGS
Thanks to the acquisition of Varilabel in 2022, Geostick has the RATAGS labels as a possible solution for these types of issues. The labels have been specially developed with an eye on an industry where specific properties of labels are closely related. 
The RATAGS are equipped with a very strong adhesion, do not stain and are BS5609 section 2 certified. We can use various printers for the in-printing of RATAGS labels. Together with the customer and his wishes and requirements, we look for the most suitable technology and solutions. 
Want to know more about RATAGS? Our advisors are happy to schedule a meeting without obligation. 
Proof provided
The RATAGS offered solutions to Synerlogic for problems with labels that would curl, came or simply did not stick to both IBCs and VARIBOXES. 
"With the RATAGS, I don't have to worry about it anymore. In addition, I do not have to worry about the chemicals that may come into contact with it, glue residues or temperature fluctuations. It's a really quality product and it makes my job so much easier." 
– according to an enthusiastic production employee. 
Versatility of RATAGS
Does your organization need a demanding solution for labels? Our RATAGS labels can offer the solution, even in a non-chemical application. Our advisors will be happy to contact you to discuss the possibilities or go to RATAGS for more information.
Contact